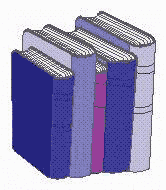 This past spring I read "The Well-Trained Mind" by Susan Wise Bauer and Jessie Wise. The book is full of lots of information. The one thing we started doing this summer after reading the book was to make Eliana read a variety of books. In the book they gave this list:
One Science book
One History book
One Art or Music Appreciation book
One practical book (a craft, hobby or "how to")
A biography or autobiography
A classic novel or adaptation suited to age
An imaginative storybook
A book of poetry
After talking to our librarian about it she suggested we add a periodical to the list. Our library has a large section of magazines for kids.
The first few weeks this whole list thing annoyed Eliana. I realized I had never taken her to the non- fiction part of our children's library. I spend most of my time there getting books for school. She was not impressed. I showed her where each section from her list was located and let her pick books. It took 5 weeks but last week she ran straight for the non-fiction, saying "Mom, where's my list, I've got to find my books!" Her excitement made the last few weeks worth the fight.
So here are the books she picked this week:
Science: one on spiders and another on bears
History: cowboys
Art/Music: Mozart
Practical: Cross Stitch
Biography: Laura Ingalls Wilder
I am beginning to think she will write her
dissertation on her one day
Classic Novel: I forgot the list - we missed this one this week
Story book: To many to list
Poetry: I've Lost My Hippopotamus
Magazine: American Girl
This is the only one she has checked out all summer,
not sure it is educational but she is reading!
So this is one habit we have added to our weekly library routine. This fall I may start a smaller list with the boys!